Su-mi (Su-jeong Lim; I'm a Cyborg but that's OK) and Su-yeon Bae (Geun-yeong Mun; Love Me Not) have returned from a hospital to live with their father, Moo-hyeon Bae (Kap-su Kim; She's on Duty) and his new wife out in the country. However, the stepmother, Eun-joo (Jung-ah Yum; The Old Garden), is not happy to be forced to live with the two girls. Matters grow worse when Eun-joo begins to act weird around the house and lash out at the two children. Based on the old Korean folktale Janghwa, Hongryeon-jon, Tartan Video Asia Extreme brings the dark, psychological mystery, A Tale of Two Sisters, from writer/director Ji-woon Kim (A Bittersweet Life) to America.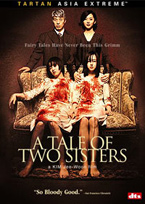 Stats
DVD: A Tale of Two Sisters (2-Disc Deluxe Edition)
Release Date: 3/29/2005
Release Studio: Tartan Video USA / Tartan Asia Extreme
MSRP: $24.95
Audio: Korean 2.0 DD, Korean 5.1 DD, Korean 5.1 DTS, 2 Commentary tracks
Subtitles: English, Spanish
Episodes: 1
Runtime: 115mins
Extras (1 Disc): Original Promotional Footage, A Letter From Su-yeon
Extras (2 Disc): Original Promotional Footage, A Letter From Su-yeon, Behind-the-Scenes, Deleted Scenes, Cast Interviews, Post Production Documentaries, Director's Analysis, Psychiatrist's Perspective, A Letter from Su-mi, Photo Gallery
Notes: Review is based on a Retail purchased copy of the final product.
A doctor sits down with a patient in a psychiatric hospital to discuss what is troubling her. The woman's face remains hidden behind her jet black hair as he begins to ask questions. The doctor reveals a photograph of the woman's family, but she makes no real effort to look at it. Determined to help her, the doctor tries a different approach, asking if she remembers what happened on the day in question. Her head raises and she starts to stare off towards a wall as she remembers, face still hidden behind the curtain of long, black hair.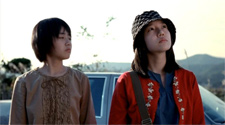 Moo-hyeon Bae drives his two daughters to his enormous home out in the countryside of Southern Korea. The low mountains roll in every direction as the girls survey their new home. A pond just outside the entrance gate has a small dock, and the two girls kick off their shoes to enjoy dipping their feet in the cool water. From the house their father calls for the girls to come back inside. Dark, dusty, a bit rundown; the girls find the interior of the house rather creepy, and the same could be said of their stepmother, Eun-joo, who forces a smile as she greets them. The false enthusiasm is easily detected by the two girls, and they quietly stare as she questions and scolds them. As Eun-joo tries to fall into her daily routine while the girls get settled, she finds that her husband's clothes have already been laid out by someone else. Meanwhile, Su-mi finds her room to already have clothes in the closet and a duplicate of her personal books inside the desk.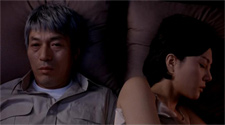 The dinner table is very quiet that evening as the family eats together. Eun-joo attempts to make some small talk with Moo-hyeon, but he brushes it off and quickly excuses himself to get some other work done. Left alone with the her husband's two daughters, Eun-joo once again takes up scolding the girls; setting out Moo-hyeon's undergarments is Eun-joo's job, not theirs. Su-mi responds by pointing out that cleaning their rooms is their job, not Eun-joo's. Moo-hyeon interrupts the arguement by leaving two pills in front of Eun-joo and some water to take them with. Su-mi comments that she doesn't want to eat dinner when her uncle arrives and goes upstairs. Eun-joo stares at Su-yeon and reminds her that it's her duty to follow her sister. Upstairs, Su-Yeon finds Su-mi waiting for her and the two walk down the hallway together. Su-mi makes Su-yeon promise to tell her if Eun-joo ever tries to get on her case, as Su-mi will not let Eun-joo get away with it.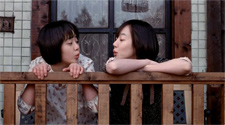 As everyone gets ready for bed, Eun-joo waits until Moo-hyeon is almost in the room before diving into the bed to look proper for her husband. Moo-hyeon crawls into bed and curls with her for a while until he's sure Eun-joo is asleep, then goes downstairs to sleep in a tiny, old bed far away from the others. Su-yeon is lying in bed when the door begins to creep open. A hand appears, and Su-yeon turns away to hide under the sheets from whatever is coming her direction. As the sheets begin to get pulled down, Su-yeon jumps out of bed and runs to stay with her sister. Su-mi comforts the scared younger girl and asks what's upset her. Su-yeon mentions someone coming into her room, which sends Su-mi around the house trying to find the suspect. Downstairs, she finds her father sleeping and covers him up before noticing Eun-joo behind her. Eun-joo instantly confronts Su-mi about having tried to wake her father to tell him something. She blows off the questions and walks away as Eun-joo stares harshly at her. Later in bed, Su-mi begins to have a couple strange nightmares that frighten her awake in the morning.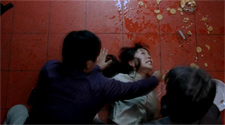 Things continue to deteriorate as Su-mi places herself against Eun-joo while Su-yeon continues to become the victim of each event. Moo-hyeon quickly finds himself dragged into the middle of arguments that he doesn't fully understand. All that Moo-hyeon can hope for is for Su-mi to calm down and make peace before she becomes sick again. The weirdness of each day continues to grow as odd comments and events mess with the psychological well-being of everyone. A dinner party leaves Eun-joo raving throughout dinner with strange stories while one woman begins to choke. As her husband drives her home, the woman comments having seen a girl hidden underneath the sink.
A Tale of Two Sisters mixes psychological horror and an old folktale with great success. The ending will leave you watching the film repeatedly, trying to catch the details you missed the first time around. The visual effects take you on a nightmarish ride through a self-destructing family as you try to piece together what's really happening in each scene. Ji-woon Kim successfully put together Korea's highest-grossing k-horror tale and one of the top ten international horror films of 2004. Even seeing the mystery once will prove to you why it has been so popular. Su-jeong Lim and Geun-yeong Mun make for a believable pair of sisters trying to survive under the rule of a tyrannical stepmother. Su-jeong Lim also stands out for playing a girl whose view of reality seems to be facing an extreme case of psychosis as she goes about her day. Jung-ah Yum is equally effective playing the proper stepmother who is a royal bitch to the people she sees as ruining her life with her husband. And Kap-su Kim rounds out the family as the somewhat-distant father with great regrets that are unseen throughout most of the film.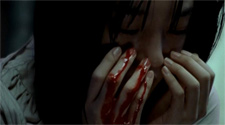 A Tale of Two Sisters is one of the finest horror films to come out in the last few years. Ji-woon Kim should be applauded for making a real psychological horror film that can be watched repeatedly without falling apart. Tartan Video Asia Extreme has also pulled out all the stops, depending on which version (one-disc and two-disc editions are available, make sure you are ordering the two-disc set) you happen to order. The video is a crisp, anamorphic presentation with solid subtitles in English and Spanish. The DVD extras (depending on which version) are numerous, including two commentary tracks, promotional footage, interviews, deleted scenes, a letter written by each daughter, behind-the-scenes documentaries, and a photo gallery. Tartan Video has gone out of its way to see this film get a proper treatment for English-speaking fans. A Tale of Two Sisters tends to be a cult movie for horror buffs and deserves more exposure to the mainstream fans who want a good film. You will not go wrong giving A Tale of Two Sisters a chance to join your DVD collection.