Daisuke Ichijyo's "Career Dramatic Practice" has been pretty popular with the students and faculty alike. However, his encounters with Nao, Mitsugu, and Ms. Touko in Lecture One are going to get him into some new trouble now. Nao is waiting for Daisuke at home and Mitsugu isn't far behind on wanting another encounter with her teacher. Based on the popular Crossnet-Pie hentai game boin and animated by Milky comes Boin: Lecture Two from JapanAnime.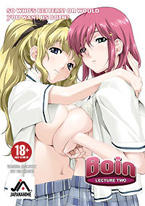 Stats
DVD: Boin: Lecture Two
Release Date: 11/21/2006
Release Studio: JapanAnime
MSRP: $24.99
Audio: Japanese 2.0 DD
Subtitles: English
Episodes: 1
Runtime: 30mins
Extras: Slideshow, Preview Trailers
Notes: Review is based on a Retail purchased copy of the final product.
Daisuke arrives home tired from the day's events only to find his door unlocked. Waiting inside is Nao wearing nothing but an apron to greet him. Apparently Nao now only wishes to please Daisuke and has been waiting patiently for him. Daisuke decides to ask about the outfit when she reveals a box. Uh oh… Daisuke knows what's inside and tries to lie when she pulls out the dildo that had been inside. Of course, Daisuke deflects and goes back to the apron outfit again when Nao reveals one of Daisuke's naughty magazines featuring girls wearing nothing but an apron. Daisuke again agrees it's rather sexy when Nao heads into the kitchen to make dinner.
Daisuke follows the student into the kitchen and watches her ass shake as she works. Rubbing the dildo against her ass, Nao complains to which Daisuke responds by offering a massage as thanks. Pressing his slacks tight against her butt, Daisuke works from the shoulders down to Nao's enormous breasts, kneading the supple melons as much as possible. As Daisuke grows bolder, Nao begins to fuss again and Daisuke answers by fingering her deeply. Nao wants it and Daisuke is going to make her beg properly for it. Turning on the dildo, the sex toy twists round and round as Daisuke slide it inside. Nao begs for him to take it out before she explodes as she's bent over the counter, but Daisuke wants to hear naughty words if she's going to get what she wants. Nao caves in to her needs, giving Daisuke a chance to screw his student every which way on the kitchen floor. Just as Nao leans back and cums, Mitsugu walks through the doorway of the kitchen.
The next day Daisuke finds himself in the middle of a battle between Nao and Mitsugu as they argue over who should get to be with Daisuke. Both girls are dressed in their respective "Career Dramatic" for the day: Nao has decided to try being a flight attendant while Mitsugu is offering her services as a maid. How do we solve this issue? Screw both of them. Daisuke bounds Mitsugu's arms and has her suck on Daisuke's member as he plays a terrorist hijacking a plane. Nao asks Daisuke to let the passenger go free, but he points out that if Mitsugu isn't working on giving him a good time then this stewardess is going to need to take her place. For the good of the passengers, Nao gives herself over to terrorist-Daisuke's needs. Daisuke takes a seat and forces Nao to ram herself against his cock before taking her hips and helping in the thrusts. Mitsugu stares lustfully at the two as Daisuke pounds Nao hard enough so that she passes out on the floor after her orgasm.
Naturally, Mitsugu offers that she can do better and returns to giving some incredible head action. As Nao wakes up, she see Mitsugu titty fucking her master in an attempt to out-perform Mitsugu's skills as a sex toy. Nao rushes back over and Daisuke recieves a double dose of bouncing breasts on his member while the two girls realize that rubbing their nipples against each other turns them on. The girls learn to work together, enjoying a threesome and pleasing Daisuke at the same time.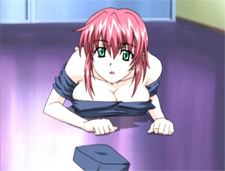 Boin is bra-to-bra filled with extra-bouncy girls to be pleased. While Daisuke is still a fairly generic male character, the two girls and their constant offerings to please the man they lust after are quite fun. The costumes are always a treat and it's amusing to watch Daisuke try to backpeddle about the how and why he happens to have a dildo in his home. Shinsuke Nakamoto's Daisuke is basic on delivery and thankfully doesn't have too many lines. His attitude and teasing could use a lot more work on the delivery. Mahiru Kanesa, on the other hand, is excellent as Nao with some good comedic timing mixed with that sexy schoolgirl voice of hers. Mia Naruse has improved a bit from the last volume, but I would have rather listened to Pochi Uchino's seductive voice as Touko rather than more Mitsugu if I had a choice.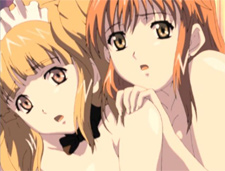 Boin: Lecture Two completes the simple storyline with little effort to go beyond the minor details to let the characters start screwing like crazy. I do appreciate the good use and abuse of the two girls in this episode, but to see Touko get left out at the end is disappointing. The video quality is good, as it should be with only one episode on the DVD. The subtitles have some minor grammar issues, but nothing major to take away from the show. There are no DVD extras and no reversible cover like there was with Lecture One. Boin: Lecture Two is overpriced for its suggested MSRP, but about $10 is reasonable for each of the two volumes. Personally, I liked Lecture Two a lot more than Lecture One despite the lack of Touko in the episode.