Based on the manga Me wo Tojite Daite by Shungiku Uchida (Omae no Kaachan Bitch!!, Maboroshi no Futsuu Shoujo) comes the daring depiction of a man caught between two worlds. Amane (Kazuya Takahashi; Kamikaze Taxi) has been dating someone from the office building for a while now. Juri (Natsue Yoshimura) is considered a beautiful, intellegent woman and quite a catch for any man to land. However, Amane has been more and more withdrawn as their relationship progressed. Driving while distracted by his thoughts, Amane accidently hits a woman stepping out into the road. From Central Park Media's Asia Pulp Cinema lines comes the taboo film Close Your Eyes and Hold Me starring Kumiko Takeda in her most demanding role. 
Stats
DVD: Close Your Eyes and Hold Me
Release Date: 1/13/2004
Release Studio: Central Park Media / Asia Pulp Cinema
ADR Production: Mercury Productions
MSRP: $9.99
Audio:Â English 2.0Â DD, Japanese 2.0 DD
Subtitles: English, Signs-Only
Episodes: 1
Runtime: 90mins
Extras: Takeda Kumiko profile, Trailers
Notes: Review is based on a Screener copy of the final product. The video is letterbox (non-anamorphic widescreen), the screencaps have been cropped to reduce the amount of black bars shown.
Amane lives a boring yet easy life working in an office and having a beautiful fiancee who cares deeply for him. However, the more Juri pushes for the couple to be closer, the more withdrawn Amane has become. Despite this, Juri continues pushing forward to further intertwine their lives even as Amane becomes cold and despondent. Amane's friend Takayanagi (Junihiko Ida) tries to cheer his buddy up, but there is no reaching a soul adrift in a sea of hopelessness. But everything changes when Amane almost kills a woman with his car as she is stepping off the curb. In her hospital room, Amane waits patiently for the woman to awaken and so he can apologize for his nearly-fatal mistake. Looking at her, this particular woman is nothing like he's seen before. Gorgeous, sexy, and alluring all in one package, the mysterious woman enters and exits his life without notice. Her only request of him when she finally wakes up: to run her over again. The next day Amane discovers that the woman has checked herself out and even paid the hospital bill Amane had offered to cover. There is something very unusual about this woman.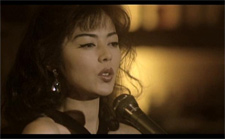 Walking around, Amane catches a glimpse of his victim and follows her into a club. Amane enters the club and is given a table while his mysterious woman sings seductively next to the bar. It turns out the club is for transvestites and Amane's 'she' is really a 'he.' Sitting down next to Amane, Amane's mystery crush, Hanabusa (Kumiko Takeda; Zero Woman: Assassin Lovers), introduces himself and slowly begins to seduce his already-willing prey. The next day, Amane talks with Takayanagi about the experience, but he is still confused by what he actually feels versus what he should feel for a woman like Juri. Amane is drawn to Hanabusa and begins visiting him over and over to spend more time with the taboo lover; Amane is unwittingly entering a world he knows nothing about. Juri begins to notice how rarely she sees Amane, but his cold nature has only worsened since meeting Hanabusa.
Amane falls down the rabbit hole head first as he discovers Hanabusa's feminine and masculine natures. Sex floats both ways as Amane learns to give and receive with his new lover. Juri's anger grows and she eventually confronts Hanabusa herself after Takayanagi reveals Amane's after hour activities. However, Hanabusa is a lover of women as well as men and soon Juri finds herself ensnared in a dark world of lust and pleasure previously unknown to her. Still wanting to get her fiancé back, Juri tries to use her experiences with Hanabusa to win back Amane's attention one trick after another. But how can she succeed when going against someone as cunning as Hanabusa?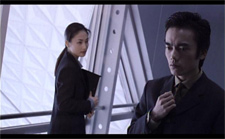 Close Your Eyes and Hold Me is not the first risqué title from author Shungiku Uchida. Uchida has several manga titles under her belt featuring office ladies and the colorful lives they can live. Her semi-autobiographical novel Fatherfucker—about the sexual abuse of a fourteen year old child by her step-father—was even adapted into the 1995 film The Girl of Silence. The transvestite lifestyle is touched on briefly within Close Your Eyes and Hold Me, but the main story follows Amane's growth as he learns to love Hanabusa on many levels. Sex is a major component of the plot and director Itsumichi Isomura does not hold back, mixing lust and art together repeatedly as the triangle between Hanabusa, Amane, and Juri grows. The cinematography style featured in the film is very impressive and adds a delicate touch of artistic beauty to each scene, from Amane chasing down Hanabusa to Hanabusa's seduction of Juri. Kumiko Takeda provides a stunning performance as Hanabusa as she switches between dominant and submissive throughout the foreplay of discussion and ecstasy. Kazuya's Amane is fairly flexible as a submissive learning about a new world, but sometimes the coldness can be a little flat on delivery. Natsue Yoshimura's Juri, on the other hand, proves to be an asset during the later part of the film when Juri will try anything to get Amane back. The English Production from Mercury Productions mixes between fair and campy, but it does remain accurate for the most part. Do keep in mind that the sex scenes will be common and a tad cheesy if you check it out.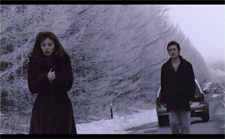 Close Your Eyes and Hold Me is a great title, providing something taboo and handling it with care. While it is a tad unusual—and it's especially difficult to forget that Kumiko Takeda is a sexy Japanese AV model—you cannot go wrong trying this title out. The video is clean and in great shape for an older letterbox title. Central Park Media also continues their fine tradition of a solid subtitle track to complete the experience. The DVD extras are only some preview trailers for other Asia Pulp titles and a profile of Takeda Kumiko's film, music, and modeling careers. Close Your Eyes and Hold Me presents sex and taboo together for a solid ninety-minute story. The only demand I could make of this film is a longer sequence of Kumiko Takeda singing in the lounge club.