I think of all the education that I missed. But then my homework was never quite like this. While the show may have nothing to do with a certain famous Van Halen song, the spirit is still the same in many ways. Drugged during a social gathering, teacher Yumi Hayama finds herself being molested by the school's Vice Principal when she awakens. Yumi manages to escape but is haunted by the memories it brings up from a past relationship. Yumi hates aggressive men and her life is about to get even more complicated for it. RightStuf's Critical Mass Video delivers the Vanilla Series hentai title Hot For Teacher for those seeking some higher education in ensnaring a teacher for a pet.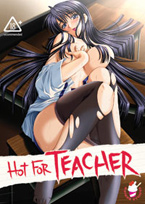 Stats
DVD: Hot For Teacher
Release Date: 10/25/2005
Release Studio: RightStuf / Critical Mass Video
ADR Production: Swirl Recording
MSRP: $24.99
Audio:Â English 2.0Â DD, Japanese 2.0 DD
Subtitles: English, Signs-Only
Episodes: 2
Runtime: 60mins
Extras: Art Gallery, U.S. Trailer, Critical Mass Video Trailers
Notes: Review is based on a Screener copy of the final product.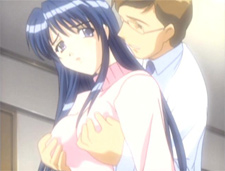 Katsutoshi Yoshioka stops by Yumi's apartment seeking help to a problem. Keiko Fujimura has run away from home and is hiding at Katsutoshi's place. Yumi agrees to go talk with Keiko and follows Katsutoshi to a car where a strange man is at the wheel. They drive her to an abandoned building where she's restrained by some ropes holding her arms up in the air. Katsutoshi begins to film while Gondo, the wheel man, tears off Yumi's clothes and fondles her bare breasts. Katsutoshi is uneasy about what Gondo is doing, but is told to shut up while Gondo forces Yumi to give him head. Just as he finishes, the Vice Principal arrives to join the action. Katsutoshi continues to film, feeling worse by the moment as the other men force Yumi to please them.
The next day, an unsteady Yumi Hayama passes by Katsutoshi and Keiko in the hallway. She looks embarassed and distracted, but keeps moving. In class we can see her trying to teach a lesson at the chalkboard while gripping a vibrator in her pussy. With no other way to hold it in, she squeezes her muscles constantly to keep ahold of the toy while she squirms from the vibrations. The Vice Principal's forced hardship is watched by Gondo in the back of the room. He disrupts the class to allude to her excited state, but is rebuked by Yumi. As punishment, Gondo turns up the remote for her toy even higher as it stimulates her pussy and asshole. In front of the class she breaks down to the forces being driven inside her.
Later, in the Vice Principal's office, Yumi is fondled by the VP again before they force her onto Katsutoshi to let him feel her inside. Katsutoshi doesn't want to, but the two men force Katsutoshi into losing her virginity to Yumi and gangbang her at the same time. Back at home, Keiko knows something is going on and confronts Katsutoshi about it. Katsutoshi says he'll reveal what is going on, but only if Keiko gives herself to him. For Yumi's sake, Keiko offers herself to Katsutoshi.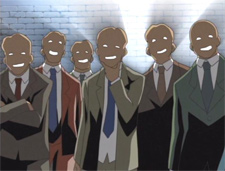 Episode two follows Katsutoshi stuck between helping Yumi escape her sex-slave life and thinking of his own self. The Vice Principal has decided to share Yumi with the Board of Education for the prefecture, which means she's about to experience being used on an entirely new level. Helpless, she doesn't resist the VP's orders. Matsunaga, her ex-fiance who attempted to force himself upon her years ago, has joined the party. Broken, Yumi completely falls into the life of being a sex slave for all of these men. Katsutoshi, seeing the results of the previous night, breaks down at the sight of the fallen Yumi. Happy to have someone worried, she tells Katsutoshi to worry about Keiko and not herself before giving herself willingly to Katsutoshi. Still, Katsutoshi tries to help Yumi by finding the original tape that the Vice Principal is using for blackmail, only to be caught and have Keiko dragged into the sadistic punishment as well.
Hot For Teacher sports some average designs and a fairly dull plot with some sex-slave scenes in between. Yumi is attractive, but the rest of the characters raping her just aren't that interesting. Ultimately, the show is predictable and leaves the best stuff seen on the front and back cover with illustrations of Yumi Hayama half-dressed. The Japanese cast doesn't particularly stand out as good or bad, but Yumi does make some nice noices during her slave scenes. The English dub by Swirl Recording is a collection lackluster acting and poor choices in older-sounding voices for younger-looking characters.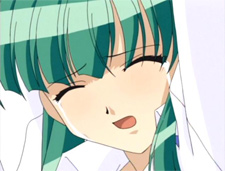 Hot For Teacher looks good on the cover, but it fails to materialize into anything beyond your average education-related Vanilla Series title. It's great to watch Yumi in action, and Keiko isn't bad either, but overall this is a title to grab when it's at a lower price. RightStuf's usual standard of good subtitles and video continue with this title. The DVD extras, on the other hand, are dull, with a U.S. trailer for the title, a screencaps gallery, and trailers for other Critical Mass titles. Hot For Teacher isn't a bad title, but the show needs more than a cute teacher and some sex-slave action to be something to buy sooner rather than later.