Traveling across the U.S. during her first major overseas tour, Geneon Entertainment has filmed Yoko Ishida's Hollywood concert from January 2006 and put together a unique DVD experience for her American fans. Known for her solo albums and Para Para Max music, Yoko Ishida brings her endless energy to the American stage with Anime-Pop Star Yoko Ishida: Live in Concert.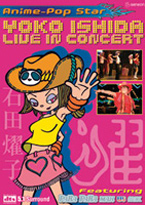 Stats
DVD: Anime-Pop Star Yoko Ishida: Live in Concert
Release Date: 5/2/2006
Release Studio: Geneon Entertainment
MSRP: $19.98, 2-DVD Release $34.98
Audio: English 5.1 DD, English 5.1 DTS
Subtitles: English
Episodes: 1
Runtime: 94mins
Extras: Behind-the-Scenes interviews, Complete Tour Highlight Reel, Q&A Session with Yoko Ishida, Trailers
Notes: Review is based on a Screener copy of the final product.
Geneon's release of the Ishida solo albums Sweets and All of Me has already gained a following for the Japanese pop singer in America. In addition, you have her popular Para Para Max dance albums. Vocal work on several theme songs for anime series including both Ai Yori Aoshi openings, Pretear, and A Little Snow Fairy Sugar. With her breaking into the U.S. market with an East coast and West coast tour, it's hard to imagine that you haven't heard something by Yoko Ishida yet. Backed by four dancers and a setlist of anime theme songs and original work, the Universal Studios' City Walk stage comes to life with an experience most Asian-pop fans will rarely witness in the States.
The 55-minute concert includes a variety of song styles that should make any anime or J-pop fan happy. Performances of anime series theme songs Sugar Baby Love (A Little Snow Fairy Sugar), Open Your Mind (Ah! My Goddess TV), A Cruel Angel's Thesis (Neon Genesis Evangelion), and Eternal Flower (Ai Yori Aoshi) are easily recognizable during the show. We are also given a demonstration of Para Para moves so that the audience can participate along with Yoko during the show. Overall, it's an enjoyable experience that brings back memories of the Chisa in L.A. video from the Tenchi Muyo! days.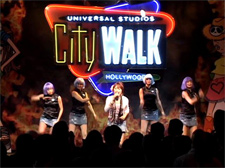 Anime-Pop Star Yoko Ishida: Live in Concert is an easy must-have. The 5.1 Dolby Digital and 5.1 DTS audio tracks are nicely mixed between the concert music and live audience to deliver a winner. The extras are heavy on this DVD with a behind-the-scenes look at the U.S. tour, a Q&A session with Yoko in English, and interviews with the Para Para backup dancers. Yoko Ishida: Live in Concert is a professionally shot concert with great music and an original experience with Yoko Ishida. Where some might have just imported a concert from Japan, the extra attention to tailor the show to U.S. fans makes this title very appreciated. If you happen to also be a big Para Para Max fan, then you may want to check out the 2-DVD release which includes a DVD that teaches the choreographed moves.
Setlist:
White Destiny
Sugar Baby Love
Eternal Flower (Towa no Hana)
Open Your Mind
Passionate Goddess
A Cruel Angel's Thesis
Let Me Be With You
Brilliant Road to Tomorrow
Hyper Yocomix Medley (Do You Remember Love?, Just Communication, You Get to Burning, Jump)
Fly Me to the Moon