Blue Gale's On Demand has been working steadily on the Milk Junky hentai PC game series for the last few years. RightStuf has picked up the animated hentai OVA from Vanilla Series which brings back its two best-known characters: a mother and daughter wanting to land the same guy. Of course, this means that the two are now rivals and will do anything to prove that they are the most talented in bed to keep Yusuke for themselves. Featuring the extra-bouncy mother-daughter act of Mitsuki (96cm) and Reina Toyohara (90cm) is RightStuf's Anyone You Can Do… i can do better!
Stats
DVD: Anyone You Can Do… i can do better!
Release Date: 4/25/2006
Release Studio: RightStuf / Critical Mass Video
ADR Production: Swirl Recording
MSRP: $24.99
Audio: English 2.0 DD, Japanese 2.0 DD
Subtitles: English, Signs-Only
Episodes: 2
Runtime: 60mins
Extras: Art Gallery, U.S. Trailer, Critical Mass Video Trailers
Notes: Review is based on a Screener copy of the final product.
Yusuke Mizusawa lands a dream job in the form of playing private tutor for Reina Toyohara. Why is it a dream job, you ask? Because Reina just happens to not only be cute, but also well-endowed in the chest. Even better, Reina's mom, Mitsuki, is also quite… 'stacked.' Reina greets Yusuke in a skimpy short-skirt and tight orange-top at the door before taking him up to her room for some studying.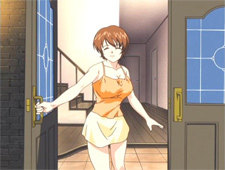 Reina tries hard to focus on what Yusuke is teaching, but one can only do so much when he has his hands on her breasts. Quickly, he begins to play with them as she tries to talk him down from molesting her. But resistance is futile when you have a horny guy playing with what are not even contained in a bra. Yusuke moves along to pulling up Reina's shirt and sucking on her tits when it hits him that a titty fuck would be good right about then. Reina just happens to be a quick learner and takes up doing the work herself to help him climax. Yusuke returns home happy with his conquest and the luck of meeting two stacked girls.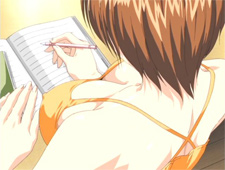 Yusuke's next visit to the Toyohara home has him too early to start working on Reina's lessons, so Mitsuki invites him to have some cake in the living room. With Reina taking a long bath, Mitsuki makes her move by revealing that she knows what the two did the other day while 'studying.' Before he knows what's happening, Mitsuki has him playing with her tits and then getting an experienced woman's version of a titty fuck. But before Yusuke can finish, Mitsuki throws herself on top to finish the job properly inside her. Yet Yusuke doesn't want just a simple ride and takes charge as he goes through lots of positions while Reina is busy taking her time in the bath. After the pair finish, Mitsuki makes Yusuke promise that he can only have sex with her.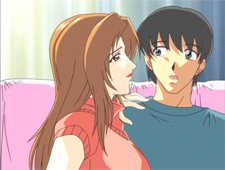 Once upstairs, we find Reina sitting in her room wanting to continue her lessons. Yusuke makes some references to learning math, but Reina knows how to talk him into some other fun. The two go at it hot and heavy as Yusuke moves from tits to fingering to taking Reina's body properly. While doing her doggy-style on the bed, Mitsuki walks in with tea for the two to drink. She doesn't take the scene well as she finds Yusuke breaking his promise of not cheating on her already. But she isn't glaring at Yusuke; Mitsuki is pissed off with Reina, and Reina meets the glare with one of her own. Both want Yusuke and they're willing to do battle for him.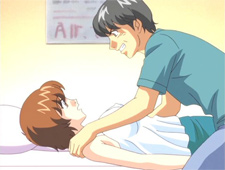 Episode two follows the battle between mother and daughter for Yusuke's bed skills. Mitsuki tries to ask him which of them he likes more, but Yusuke deflects the question saying it's too sudden to answer. Only one thing will solve this problem: both will have to demonstrate their talents at the same time. Yusuke reduces the girls to being his slaves as he compares breasts, tongue skills, and physical activity until it becomes a happy threesome. But once it's over the pair resume fighting over who should get to be with Yusuke. Yusuke escapes to his own apartment only to have Reina stop by. And where one is, the other isn't far behind…
Vanilla Series titles tend to be a mixed bag on animation. Some scenes are animated fairly decently, while others have the most basic of character designs displayed. And, of course, certain pieces of animation are reused several times, which just becomes boring. Mitsuki and Reina generally have some good designs, but they tend to be poorly represented in many of the sex scenes. Anyone You Can Do… i can do better! carries a thin-but-amusing plot and tons of sex. Since it's a hentai title, this is a good thing. Casting for the characters isn't too bad in Japanese. Yusuke is a bit lame in most scenes, but the two girls more than make up for this problem. Swirl Recording provides an English dub for the title and it is something to be avoided between the cheesy performances and poor casting choices.
Anyone You Can Do… i can do better! is a great little title to own. Mitsuki and Reina are priceless in design and attitude as the two constantly bicker and screw Yusuke out of his mind. The video is solid for this two-episode DVD and the subtitles presented no errors. The DVD extras are worthless, with a U.S. trailer for the title, some screencaps for a gallery, and trailers for other Critical Mass titles. RightStuf has done a good job bringing over the first Milk-Junky-based hentai series and hopefully the second one will be licensed in the near future. If you're looking for a little comedy and plot with your sex (lots and lots of sex), then you should check out Anyone You Can Do… i can do better!