Director Takashi Miike (Dead or Alive series, Ichi the Killer) doesn't make nice films. Any movie that bears the mere mention of the director is a clear message to the viewer that graphic violence is going to be found quickly under the surface of even the tamest-looking feature films. Seven years ago, Shigeharu Aoyama (Ryo Ishibashi; Suicide Club, The Grudge) lost his wife and found himself raising his son, Shigehiko (Tetsu Sawaki; Boogiepop and Others), on his own. With his son and a film-producer friend, Yasuhisa Yoshikawa (Jun Kunimura; Tomie: Forbidden Fruit, Kill Bill: Vol. 1), nagging him to find a woman and remarry, Shigeharu gives in to the pair and humors their search. Using a fake movie audition to lure in women to be interviewed, a quiet ballerina named Asami Yamazaki (Eihi Shiina; Sky High, Eureka) catches Shigeharu's attention. A courtship soon begins, but this delicate flower has thorns hidden beneath the surface. Lions Gate Entertainment brings the femme fatale story Audition: Uncut Special Edition to DVD to scare a new audience in America.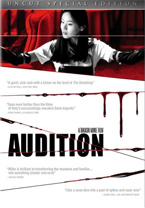 Stats
DVD: Audition: Uncut Special Edition
Release Date: 8/23/2005
Release Studio: Lions Gate Entertainment
MSRP: $14.98
Audio: Japanese 5.1 DD
Subtitles: English, Spanish
Episodes: 1
Runtime: 115mins
Extras: Trailers, Director interview, Director introduction, Photo gallery, Select scene Director commentary, Bravo's 100 Scariest Movie Moments segment, Ryu Murakama interview
Notes: Review is based on a Retail purchased copy of the final product.
Shigeharu Aoyama works hard putting together films with his production crew while still spending time with his only son. While out fishing one afternoon, his son Shigehiko begins to prod the old man about finding a new woman to marry. Shigeharu's best friend Yoshikawa agrees with the notion, but the girls they find themselves surrounded by are not the type an older man would want to spend a lifetime with. Breaking down a list of things he wants to find in a woman, Shigeharu finds himself giving Yoshikawa an idea. By holding an audition for a film, they could draw in lots of women fitting Shigeharu's wants and pick some girls for him to date from the candidates. Taking the basics from one of Aoyama's recent documentaries, a new story is written to use as the template of what kind of woman Shigeharu seeks. And by using this audition process, Yoshikawa may find funding to cast a real film based on the 'fake' story and make some money. Soon a radio ad starts to advertise a new audition for something called "Tomorrow's Heroine" which may find the next star to grace the big screen.
Shigeharu pours through the pile of applications and chooses thirty girls for in-person interviews with the two film producers. One particular applicant catches his eye when he accidently spills some of his coffee on her application. Asami Yamazaki is a stunning beauty who practiced ballet until she was injured. The character in the story appeals to her, and despite having only a slim chance with her lack of an acting background, Asami remains hopeful and auditions for the role. The in-person interviews are a colorful process, as each of the thirty women are unique in some way, and the hard questions Shigeharu and Yoshikawa ask are no different. The humor and personality of the characters and Miike's own silliness come out as we briefly wade through the girls, from a designer to someone who worked in an office for adult videos. Shigeharu starts to get a little uneasy about the process until he spots the beauty he saw before at his desk waiting in the lobby for her turn. Renewed, Shigeharu happily pushes on to #28 when Asami Yamazaki is called in.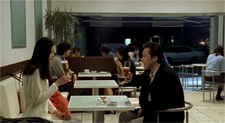 The approach is instantly different as Shigeharu takes full command of the interview and comments on her application. His interest in the woman is obvious from the beginning as he becomes sappy, talking about how her words moved him, eliciting a look from Yoshikawa. After she leaves, the pair take another break to talk about how Asami came off in the interview. Shigeharu is glowing with praise, yet Yoshikawa is cautious. There was something that didn't sit quite right with him while they talked to her. Later that evening, Shigeharu takes a chance and calls Asami, thanking her for the interview, and arranges another meeting. Of course, Asami is happy to see Shigeharu and speak with him again. Meanwhile, Yoshikawa has been digging into Asami's past for his friend's sake. The record producer who is supposed to have her under contract has been missing for a year now. Having lunch with Asami, Shigeharu asks about the producer contact she had mentioned before. Asami confesses to having lied about belonging to an agency because she was advised to do so. With his fears alleviated, Shigeharu soft-shoe's his way into giving her his number and the open invitation to talk again soon. Still, Yoshikawa urges caution to his friend who is more than happy to take this unknown woman at face value. At the very least, he asks, do not call her again.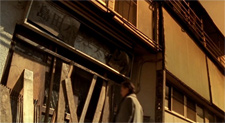 Shigeharu tries to resist picking up the phone every day. Sitting in a small, poorly-lit apartment is Asami waiting patiently and half slumped over near the phone. A large duffle-bag lays next to her for unknown reasons. The phone rings and a smile plays across her face. As she reaches for the phone, the bag rolls off to one side. There's a very dark and dangerous nature inside the delicate flower she pretends to be. Shigeharu and Asami quickly begin to date, and Shigeharu is having the time of his life. He confesses that the film project has been postponed indefinitely for now, but she doesn't mind because she found Shigeharu thanks to auditioning for the part. Blinded by love, Shigeharu falls under the spell of this succubus completely when they spend a weekend together. As he tries to come up with something for them to do, she slowly peels off each layer of clothing and slides under the bed sheets. Calling him to come to her, Asami slowly reveals her legs to let him see the two burns across one of her thighs. Shigeharu, however, isn't persuaded to give up wanting her. Asami begs Shigeharu to swear to only love her because she has been fooled before by other men. The widower swears to love only her as he takes off his clothes to join her.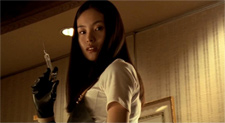 Audition stands as one of Takashi Miike's best non-yakuza films and draws you in slowly as you learn small details about each of the characters. Despite playing the delicate submissive, Asami's femme fatale nature leaves her holding the real power in the relationship. As soon as Shigeharu is hooked on wanting to be with her in every way, Asami takes full control in a way that only Miike can properly illustrate. Shigeharu dedicates all of his time to trying to track down Asami after she disappears the next morning from their weekend retreat. Her past and current actions are slowly revealed in graphic displays as the reserved becomes the deadly. The psychological-thriller nature of Audition stands out as something other directors have tried to emulate, but none has ever perfected the Miike-style of mixing thrills, horrors, and graphic scenes together to shock the audience into submission. Casting for Audition also introduces a stack of A-list stars providing convincing performances. Eihi Shiina's double-role as both innocent and deadly makes for an interesting character as her performance is consistently believable. Ryo Ishibashi and Jun Kunimura are solid as old men trying to help each other out. Ryo's approach to being a widower falls back on an older generation and little touches to the character show this off very well.
Audition: Uncut Special Edition is a tale of macabre horror and femme fatale dementia that will scare even the toughest of men into being wary of seemingly-gentle girls. Lions Gate has put out a solid product with flawless anamorphic video and only a couple misspelled words in the subtitle track. The DVD extras include an introduction by Takashi Miike, a select scene commentary with Miike, an interview with Miike, Bravo's 100 scariest moments scene, an interview with Ryu Murakami, and a photo gallery. Audition has all the graphic violence you expect from famed director Takashi Miike, enough to please even hardcore fans. The story works as an excellent example of how to change gears and lull the audience into expecting one thing and then shocking them with another. If you have a chance, make damn sure to check out Audition: Uncut Special Edition.