Daisuke Ichijyo is a new teacher at the high school, but he's already become very popular with the female students and staff. Daisuke teaches "Career Dramatic Practice," in addition to his normal class, which allows the girls to act out their possible future job and hopefully get some special lessons during their practice. But if he's not careful, Ms. Touko may find out what he's doing and want to get involved. Based on the popular Crossnet-Pie hentai game boin and animated by Milky comes Boin: Lecture One from JapanAnime.
Stats
DVD: Boin: Lecture One
Release Date: 3/21/2006
Release Studio: JapanAnime
MSRP: $24.99
Audio: Japanese 2.0 DD
Subtitles: English
Episodes: 1
Runtime: 30mins
Extras: Slideshow, Preview Trailers
Notes: Review is based on a Retail purchased copy of the final product.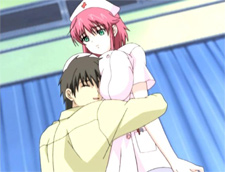 Sitting behind a curtain on one of the beds in the school nurse's office, Daisuke and Nao practice lines for Nao's possible career as a nurse. However, Daisuke takes a chance to go off script when Nao suggests to listen to her heartbeat. Rubbing his face against her ample chest, Dai teases Nao in her nursing uniform. Nao responds by removing her clothes so that Daisuke can hear her heartbeat better. The teacher quickly tackles his student as they somewhat follow their script and Daisuke discovers that this virgin has been waiting to offer herself to him. The pair fuck like wild rabbits, changing positions rapidly as Daisuke slams Nao from behind and plays with her tits. Yet the moment is too much for the both of them and they explode into an intense orgasm together.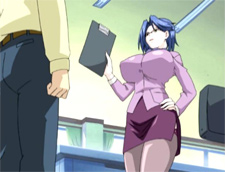 Back in the teachers' lounge, Daisuke is handed his next assignment from Ms. Touko: Mitsugu Tsukushino. As Dai walks into his classroom, he spots Nao Iihara, who blushes at the first look in her direction. In addition to being one of his students, Nao also happens to be Daisuke's cousin. Mitsugu Tsukushino is also in the classroom and can't wait for her career practice. At the end of the day, Mitsugu begins to read her lines with Daisuke. Mitsugu wants to be a shrine maiden and jumps at the chance to release the evil spirit hiding within Daisuke's pants. The teacher struggles a little as he backs into the wall, but Mitsugu's fast hands and even faster mouth get him rock hard in an instant. Pushed to the ground, Mitsugu is used for a titty fuck, driving her wild enough to offer herself for anything the sensei wishes to do. Daisuke takes up the offer and eats away at Mitsugu's pussy until she begs him to fuck her until she cums.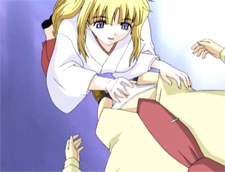 Daisuke's report doesn't cover his work with Mitsugu very well and Ms. Touko demands that Daisuke perform a practice session with her to see what he's doing. Touko dresses up in a school girl's sailor uniform to play a student in love with her teacher. Daisuke makes sure to note that this is just an exercise, drawing a displeased look from Touko. As soon as they begin, Touko thrusts herself into the role by pressing her huge tits against Daisuke while begging him to take her as a lover. Daisuke again reminds her to stop teasing him when he realizes that Touko really does want to perform the entire scenario until she's been helped by the teacher. Knowing that Touko will probably be willing to do anything for him, Daisuke has Touko play with herself on a desk while he watches up close.
Boin continues the tradition of extra-bouncy characters just like the original game by Crossnet-Pie. While Daisuke is the generic male role getting to have sex, the three girls that throw themselves at him are a treat, as each dresses up and acts out their role while getting fucked silly. The razor-thin plotline doesn't really matter and the constant sex makes sure you're not getting bored. The Japanese cast works well, with only four seiyuu actually needed. Shinsuke Nakamoto's Daisuke is rather plain, but that won't affect your enjoyment. Mahiru Kanesa is a treat as the bashful redhead Nao and sadly her five minutes of sexy fun pass by too fast. Mia Naruse does all right as Mitsugu, who will fuck at the drop of a hat, but again it seems rather plain at times. Pochi Uchino plays a decent Touko, yet there would have been more fun if she pushed sexy towards seductive and not innocent. It's not a bad cast by any means, but it could have been better.
Boin: Lecture One offers a lot of sex and little story to complicate this end goal of the show. Each of the girls carries a hefty weight on her chest and gets used throughly for it. Nothing really makes the title special other than the character designs. The video is clean and clear as it should be with only one episode on the DVD. The subtitles, however, have some spelling and grammar issues throughout the episode. The DVD extras are trailers for other series and a slideshow of screencaps from Boin. Boin: Lecture One doesn't justify its suggested price so make sure to wait for a sale before grabbing it. I'm interested to see who gets screwed next, but it's not a title on my high-priority list of hentai purchases.