On the outside, Peach Paradise seems like your typical adult-themed video store. However, what happens inside is hardly what you would call typical. Owners Masaki Kitazawa and Koji Miyamoto have built their shop selling adult videos, but only a few people know the true secret behind the store: some of the videos are produced by the owners themselves who kidnap and rape their victims on film. Their newest target is Miki Seriyawa, a girl attending private school who has ample talent bouncing with every step. Add in a mother and aunt as equally filled-out and the newest "Chains of Lust" film is already looking at a popular roster to capture. Animated by Vanilla Series and based on the PC hentai-game Ryouzoku no Rensa comes Chains of Lust from Anime 18.
Stats
DVD: Chains of Lust (Xtreme Series)
Release Date: 5/9/2006
Release Studio: Central Park Media / Anime 18
ADR Production: TripWire Productions
MSRP: $29.99
Audio:Â English 2.0Â DD, Japanese 2.0 DD
Subtitles: English, Signs-Only
Episodes: 2
Runtime: 60mins
Extras: Art Gallery, Character Sketches, Textless Closing (Ep.1 & 2), Chains of Lust Trailer, Anime Artform, Anime 18 Trailers
Notes: Review is based on a Screener copy of the final product.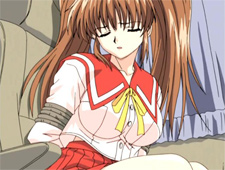 Miki Seriyawa awakens tied up inside a van with two odd men staring at her. She doesn't seem to notice at first that one of them has a video camera trained on her every move. Miki struggles helplessly as one of the men begins to grope her body. Masaki pushes her down to the floor and begins testing Miki's reactions to having her nipples tweaked and panties invaded by fingers looking for that sweet spot. Miki squirms and whines until Masaki gives her a slap across the face. Threatening to toss her out of the van and into a public area, school-uniform torn and body exposed, compels Miki to quiet down as Masaki starts to go down on her. Both men appreciate that her first time is going to be by rape as Koji makes sure to get close-up shots. With the tape almost out, Masaki pulls out his manhood and pops Miki's cherry hard and fast. But this isn't enough for him, and she's flipped over to take it doggy style until he's ready to cum. Miki pleads for Masaki to pull out, but what's the fun in that for the rapist? Broken and bleeding, Miki lies in the van completely confused and sad over the event.
The talent scouts take Miki to their next stop and discuss how the video is going. With some key close-ups missed during Miki's first rape, they are going to have to try even harder to get it right when they use Miki's mother, Hiroko. But with Hiroko's husband out of town for the week, Masaki sees an opportunity to do even more to make this new film a success.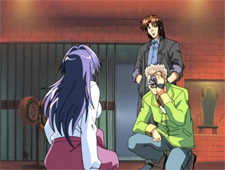 Hiroko is worried sick about where her daughter is when the doorbell rings. A man claiming to have found Miki passed out in an alley has brought her home. Naturally, Hiroko buzzes them inside the apartment complex and is shocked when she only sees Masaki standing in the door. Hiroko demands to know where her daughter is while Masaki cues up a tape of the men's earlier activities. Disgusted by what she sees, Hiroko threatens to call the cops, but Masaki is prepared for this. After all, Miki goes to a top-ranked private "university," and who would welcome this news? Masaki offers her a trade, but Hiroko recognizes it for what it really is: blackmail. Masaki points out that a mother who cared would do anything to save her daughter. Shamed by this, Hiroko gives in and is taken to the Peach Paradise video store.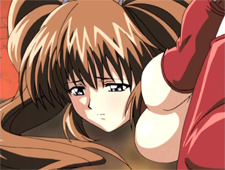 Tricked into looking for Miki in the back room, Hiroko is shoved inside the large sex-chamber of toys and depraved devices used to torture people. Believing that this is the only way to get her daughter back, Hiroko offers herself fully so that Miki can return home safe. Hiroko becomes submissive to Masaki's every wish, from playing with her tits (which are even bigger than Miki's) to sucking him off. Everything is filmed while the two men chain Hiroko up and pummel her from both ends. Meanwhile, Koji's desires for Miki grow stronger as he takes care of his new pet with special attention from toys in the room. Breaking her with the torture of a vibrator deep inside while her nipples are played with, Miki gives in to being fully submissive and begging Koji with dirty words for whatever he wants.
Hiroko is returned home not knowing that her daughter has become a plaything for Koji. Hiroko's sister, Shizue Sasamoto, stops by and is shocked to find her sister in tears. Unfortunately for Shizue, Masaki notices the sexy green-haired sister and plots to add her to his new video series. Elsewhere in the city, Detective Seiji Yamamoto looks over a video that came from Masaki's store. The detective knows all about the seedy dealings of the store and has some demands of his own.
Our second episode starts with Shizue trying desperately to get Hiroko to talk about what has happened to Miki. Just as she's about to confess, Masaki calls and threatens Hiroko into keeping quiet. Back at the video store, our detective has some needs for Masaki's most recent video series' girls: some men would like to have a special meeting with them. Masaki agrees in order to keep his bargain going with the detective in addition to the kickbacks the cop already gets.
Masaki stops back by the Serizawa residence to get Hiroko again. Blindfolded, she is led into a room to play with another blindfolded girl… her daughter, Miki. The men abuse their power by filming the two going at it hot and heavy before revealing their identities to each other in the final act of the video. With the two having now played with each other, Masaki and Koji go off to kidnap Shizue for a new round of breaking-in-a-pet so that they'll have enough girls for Det. Yamamoto's special meeting. Chained up, Shizue is given a large enema session before the men let her beg both of them for a gangbang in her horny-holes.
Chains of Lust features some good character designs and animation quality that doesn't drop very much between scenes. While the content isn't for everyone, the storyline's theme of rape and betryal is fairly good. The ending will be a tad odd for some people, but don't let this worry you too much. The series is heavy on the rape-, torture-, and breaking-into-submission-styles of sex with some enemas thrown in for good measure. The Japanese cast is good all-around and definitely the audio track to start with. TripWire Productions provides a playful script that goes a tad too far on the jokes at times, but overall this would be an amusing title to watch during a drinking party. Miki (Rachael Currie), Hiroko (B. Rosenblum), and Masaki (Genghis Holmes) tend to come off all right (despite some really cheesy jokes at times), but the caricature for Koji (Mark Billingsly) is nothing but groan worthy.
Chains of Lust is another great addition to Anime 18's Xtreme Series and a good choice for anyone looking for a BDSM title. The subtitles present no errors and the video is clean, as are typical of Anime 18's newer titles. The extras are fairly heavy for a hentai title, with textless closings for each episode, a video Character Sketch gallery, and a video Art gallery with screencaps. Other than my slight preference of accuracy (though I understand why it's done) for things like "university" or "chains of lust" – the video the girls are featured in carries the same name as the OVA which would be more accurately translated as "Chains of Disgrace" or "Chains of Rape" – the title shines as something to enjoy repeatedly. Chains of Lust is a must-own title with a good storyline, great animation, and lots of kinky sex to enjoy.