Type-Moon's Fate/stay night is back with another volume of battles between the Magi competing in the Holy Grail wars. Shirou Emiya, the soul survivor of an explosion related to the last Grail war, has grown into a "nice guy," though he is still haunted by memories of the past. Looked after by classmate Sakura Matou and teacher Taiga Fujimura, Shirou's life is fairly well watched-over as he takes care of the estate he inherited from his father and goes to high school. But now that he has entered the Holy Grail wars, Shirou is going to have to learn a new role in life: Master. With the servant Saber at his side, Shirou will have to battle people he may already know in order to keep the general public safe from the deadly game of the Grail wars. From Geneon Entertainment comes the second of six volumes in the Fate/stay night series with Fate/stay night: War of the Magi.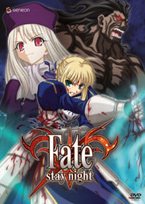 Stats
DVD: Fate/stay night: War of the Magi
Release Date: 2/20/2007
Release Studio: Geneon Entertainment
ADR Production: Bang Zoom! Entertainment
MSRP: $29.98
Audio: English 2.0 DD, Japanese 2.0 DD
Subtitles: English, Signs-Only
Episodes: 4
Runtime: 100mins
Extras: Textless Closing, Preview Trailers
Notes: Review is based on a Screener copy of the final product. Preview audio clips are available.
Episodes five and six introduce one of the most popular servants of the series: the purple-haired Rider. We open with Shirou debating what to do with Saber. After all, he can't keep hiding her in the estate's dojo forever when Sakura and Taiga stop by for breakfast and dinner daily. Fed up with the idea of pretending Saber doesn't exist, Shirou drags Saber to the dinner table to introduce her to the other two regular women in his life…. as a distant relative. Naturally, Taiga takes the news of Shirou living with another woman as unacceptable because something [naughty] could happen. Sakura is equally shocked by the news that her long-time crush may have an interest in another woman. Taiga pushes Saber to answer why she is there, but the reply that she is to protect Shirou from any and all enemies is just too weird. So Taiga challenges Saber to a sword match in the dojo to see how tough the blonde knight truly is. Unfortunately for Taiga, Saber disarms the sensei every time with ease. Still not convinced of Saber's intentions, Sakura and Taiga spend the night at the Emiya estate to make sure no funny business is going on.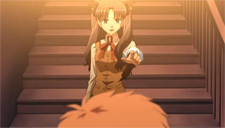 Meanwhile, Rin and Archer have been searching the city trying to find the Magus who is setting up traps to drain people of their mana life-force to stengthen his own servant. Having failed to find the Magus, Archer begins to nudge Rin on how she will deal with Shirou if he still isn't taking his Magus duties seriously. Rin announces that she will kill him like she is suppose to. The next day at school, Shirou discovers a weird sensation as he crosses onto the schoolgrounds. Later with Issei, Shirou learns that Ayako Mitsuzuri and Shinji Matou have been missing since the previous night. Shirou begins to look around the campus after school ends, but runs into Rin. Since Shirou has left Saber at home, this is the last straw for Rin's patience with the young Magus and she is going to teach him a hard lesson.
Rin unleashes her fury in attacking Shirou with spells across the school. He manages to survive each encounter, but a final cornering in a hallway let's Rin give Shirou an ultimatum: hand over the command seals to control Saber or he will get hurt. Only the scream of a school girl from elsewhere in the building saves Shirou from facing possible elimination. The school girl is unconscious, but it is clear that someone has drained her of her life force. As Shioru starts to look outside, a metal stake flies through the doorway. Shirou throws his arm up in time to save Rin, but he takes it into his arm just below the elbow. Shirou can sense the person having fled into the woods and follows quickly. It's a servant, and the stake Shirou was hit with is actually attached to a chain she controls. Shirou has just met Rider. As Rin catches up with Shirou, Rider leaves to avoid a battle. Rin takes Shirou back to the Tohsaka house to patch him up and declare a truce between the two. Another student at the high school is obviously a Magus and they need to stop the life-draining barrier that person is creating over the entire school campus.
With a truce between Rin and Shirou declared, episodes seven and eight introduce Shirou training under a more-skilled Magus so he can survive in this tournament. Shirou and Sakura get ready to walk to school together when Saber forces her way into joining the pair so she may protect her Master. And if this didn't already set Sakura to be slightly miffed at not getting to walk alone with her crush, the appearance of Rin at the door to also walk to school with Shirou certainly did. Sakura bolts out the door leaving the rest of the teens behind. Rin calms Saber's rattling and convinces the knight to stay home. With everyone else gone, Rin and Shirou head to school to discuss Magi business. They agree to meet at lunch, but seeing Sakura in the hallway on campus gives Shirou a reason to be late. Chasing down the younger Matou, Shirou assures Sakura that things will be back to normal tomorrow.
Having finally settled his problems with one woman, Shirou gets an ear full from Rin over being late. Rin fully explains how a barrier works and that breaking the sigils (essentially, the connecting roots) on the schoolgrounds will weaken the barrier to give the pair more time to find the other Magus. By chance, Shirou can detect the sigils by how they feel despite being a novice at magic. With some luck on their side, the two run around the school breaking down most of the reachable sigils to severely weaken the barrier over the school. Having been successful, the two head home when Shirou detects one more big sigil around the archery dojo. Going back on his own, Shirou finds Shinji Matou… and Rider.
Shinji attempts to play the weakling card to convince Shirou to team up with him and defeat Rin Tohsaka before she becomes too strong. After all, Shinji hates fighting and would never do anything mean or evil. (Excuse me while I step outside to laugh for a few minutes.) Shirou humors the request before turning down his best friend. Shinji mentions that he has no magic power, meaning there is a fourth Magus on campus. Even more dangerous, Shinji knows that a Master has set up shop at Ryudou Temple where Issei lives. While being walked out by Rider afterwards, Shirou asks if the information about the temple is true. She confirms that a witch is residing at the temple and is well versed in how a man thinks.
Shirou asks Issei about the woman currently living at the temple. Issei doesn't know very much other than that she's awaiting her upcoming marriage and is very beautiful. With this news, Shirou heads home to an angry Saber who has been waiting for him. Rin also happens to have stopped by, giving the three a chance to talk about Shinji and the witch at the temple. Rin doesn't trust the information about the temple from Shinji's warped little mind, but Saber confirms that it is a key location to gather souls. Saber thinks they should attack the temple before the Servant and Master grow too strong. However, Shirou and Rin disagree at the suicidal attempt. Rin has decided to live at the Emiya estate until their truce is over in order to be closer to her partner and help teach him how to be a better Magus. You can only imagine how well Sakura and Taiga take this news when they stop by for dinner that evening.
Fate/stay night is a busy series as we follow Shirou and Saber trying to become better partners and deal with the new Masters and Servants that arise. Now that Shinji has joined the ranks as a Master, things have gotten more dangerous. An unsteady mind along with an equally dangerous servant means bad news for everyone around them. The character designs continue to be strong in this volume with the introduction of Rider. Aside from Saber, she is very obviously a popular character among fans and creators with the amount of detail that is included during her fight scenes. The Japanese cast continues to be impressive with the emotional range of Mai Kadowaki's Taiga and Kana Ueda's Rin Tohsaka. Ayako Kawasumi's straight-laced Saber is also a pleasure to listen to as she scolds Shirou repeatedly. The English production from Bang Zoom! Entertainment provides a fair translation with Kristi Reed's writing and direction, but still nothing to really excite me enough to start here first. Sam Regal's Shirou still presents some weakness on delivering lines. Mela Lee's Rin fairs better, but sometimes I think she doesn't always capture some of the coldness inside the character. Kate Higgins is generally getting Saber correct with the directness, but the script seems to lose some of her sharpness here and there. And finally, Karen Strassman nailed a lot of Rider's deadly in-battle attitude and it would be fair to consider her portrayal equal to Yuu Asakawa's original performance. Rider will be the one to pay attention to next volume.
Fate/stay night: War of the Magi takes the first real step into the growing relationship between Shirou and Saber. And while I could backhand the man day and night for hurting Sakura's feelings repeatedly, he doesn't really mean to do it in the first place. The video is pretty good overall, but artifacting is more prevalent on this volume with some issues during the episodes and it is very obvious during the opening sequence. The subtitles are fairly strong with no real issues present. The only related DVD extra for this volume is a textless version of the ending credits. Fate/stay night is a great title to follow with the mixture of character interactions and fight sequences. Fate/stay night: War of the Magi provides a good mixture of character development and overall action to get this series moving forward. I'm really looking forward to the next volume in the series to see what will happen with Saber's actions at the end of episode eight.