Mitsuki Koyama and her alter-ego Full Moon are facing even more problems in life. Mereko and Takuto end up having a big fight when Mitsuki mentions that Takuto revealed some of his past life as a human to her. Even worse news is that her audition against Madoka Wakamatsu has become much harder, because Madoka wants the director to only use one idol instead of two to promote the line of shampoo products. Based on the original manga story by Arina Tanemura, Full Moon O Sagashite: A Singer's Voice—the fifth volume from Viz Media—pushes Mitsuki to her limit as she tries to juggle getting Mereko and Takuto back together while also enduring a relapse of her illness.
Stats
DVD: Full Moon O Sagashite: A Singer's Voice
Release Date: 6/19/2007
Release Studio: Viz Media
ADR Production:Â The Ocean Group (Blue Water Studios)
MSRP: $24.98
Audio: English 2.0 DD, Japanese 2.0 DD
Subtitles: English
Episodes: 4
Runtime: 94mins
Extras:Â Preview Trailers
Notes: Review is based on a Screener copy of the final product.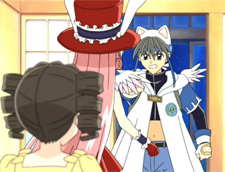 Episodes seventeen and eighteen place a great deal of stress on Mitsuki as her dreams face being erased by Madoka's demands that Mermaid Tear use only one idol to promote their line of products. Back at home, Mitsuki asks for more details on Takuto's past as a singer, which enrages Mereko. A shinigami is not supposed to reveal their past, and definitely not any specific details of who they used to be, or else that shinigami will turn into a ghost. Takuto takes off with Mereko trailing behind, trying to talk to her partner. As night turns into day, neither of the shinigami return to Mitsuki's side. Worried about her friends, Mitsuki gets dressed and walks across the city, trying to call Takuto with her whistle. Mereko assures Takuto that they can get reassigned to a new person, but that isn't what Takuto wants.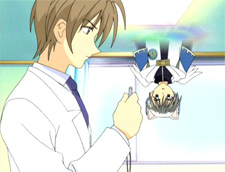 Meanwhile, Madoka Wakamatsu is pulling out all the stops to trick the director into letting her have the Mermaid Tear role. The director likes Full Moon for her genuine personality and her clumsiness, which both fit the likable personality wanted for promoting the shampoo line. But Madoka overhears the director's comments and begins to mimic Full Moon's clumsy cuteness, trying to sway the director back to giving her the role. Mereko recieves an order stating that the audition will cause harm to Mitsuki's life, but Takuto isn't going to abandon Mitsuki so easily when she's counting on him. Elsewhere, Mitsuki has collapsed from her illness flaring up, but the 12-year-old is still determined to make it to the audition on time because she knows Takuto will be there for her no matter what.
The nineteenth episode places Mitsuki in a tough spot. Everyone in her life has been put through a lot of difficulty and worries simply because Mitsuki wants to sing until she reaches Eichi. However, when Ms. Oshige finds Full Moon at the audition, Dr. Wakaoji is close behind. While Mitsuki was missing, Dr. Wakaoji ended up finding Oshige and explaining how sick Mitsuki is with her throat cancer. Of course, when Dr. Wakaoji sees Full Moon, he doesn't seem to understand that the Mitsuki he knows and the Mitsuki Ms. Oshige knows are the same girl transformed between twelve and sixteen. Mitsuki runs away, leaving everyone in a panic as to what Full Moon is going to do. Only Takuto can help Mitsuki out of the sorrow.
Episode twenty rounds out this volume with one more problem for Mitsuki to solve: getting Takuto and Mereko back together. A ghost has been seen haunting Mitsuki's school, playing basketball, and Mitsuki is sure it's Mereko. Takuto refuses to go, so Mitsuki makes the journey on her own to find the lonely rabbit shinigami. As Mitsuki asks for Mereko to come back, Mereko is worried about how Takuto will feel about her returning after what happened with the audition. With neither side wanting to take the first step, it's up to Mitsuki to trick the two shinigami into talking again.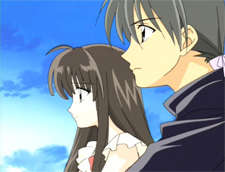 Full Moon O Sagashite continues to mix in some cute filler while pressing forward with the main story arc. Mereko and Takuto unfortunately end up causing Mitsuki a lot of pain as her mistake tears the growing friendship between the two shinigami apart. Character designs and animation are also well done in this volume, as we see a lot of the area where Mitsuki lives while trying to find her two shinigami friends. Takuto's crush is still growing and it will be interesting to see how it plays out as Mitsuki gets closer to finding Eichi. The series is still fairly niche in its shoujo storytelling, but there is a wider audience who would enjoy this series if it was promoted a bit more. The Japanese cast works out a solid four episodes this volume as no new characters are introduced. myco puts a touching note of sadness into Mitsuki as she falls deeper into her illness while searching for Takuto. Yasuo Saito also gets a thumbs up for his vocal performance, singing Full Moon's "Myself" song a cappella on the beach. The English production from Blue Water Studios continues to improve as Jeffrey Watson (Takuto) and Leda Davies (Mereko) round out their characters with stronger performances. Katie Rowan (Mitsuki/Full Moon) continues to be the shining example of everything that's right with the English production. Unfortunately, the script could still use a little work capturing touching moments, like when Mitsuki explains trying to sing in English if she went to America to find Eichi. It's not all bad, just speed bumps in an otherwise-decent production.
Full Moon O Sagashite: A Singer's Voice puts Mitsuki to the test of how willing she is to press forward, and the results do resolve several of the recurring problems in her life. While Full Moon O Sagashite isn't for everyone, it does deserve to be noticed by more than just the shoujo crowd. Viz continues to do a good job, with no video or subtitle errors for yet another volume. The DVD extras are unrelated trailers for Shojo Beat titles. Full Moon O Sagashite: A Singer's Voice leaves us in a nice spot for now with no cliffhangers to deal with. Full Moon O Sagashite has turned into a great little series, and volume six will be a nice start to see where they go next.