Combining cutesy character designs, '70s-style Go Nagai robots, and a rock soundtrack, Pan-Taron and the P-Z Lab try to defeat evil (or just accomplish daily tasks) in five-minute increments. Adopting title cards, dialogue is delivered just as it was during the silent film era, capturing only plot-related lines and leaving the characters to tell the rest of the story through their actions. From Bandai Entertainment comes the combination of Hello Kitty type characters trapped in a Go Nagai mecha dream with Robonimal Panda-Z: The Robonimation – Volume 1. 
Stats
DVD: Robonimal Panda-Z: The Robonimation – Volume 1
Release Date: 9/27/2005
Release Studio: Bandai Entertainment
MSRP: $14.98, DVD w/Figure $19.98
Audio: Japanese 2.0 DD
Subtitles: English
Episodes: 5
Runtime: 30mins
Extras: 3-D Animation clip, Textless Opening, Trailers
Notes: Review is based on a Screener copy of the final product.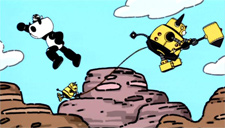 With only five minutes per episode, almost half of which is taken up by the opening and closing sequences, Panda-Z makes sure to quickly move to the action and humor. Episode one pits Pan-Taron and his Panda-Z robot against the evil Skull Panda's Warunimal pilots. However, no challenge is too great for Panda-Z. Episode two sits down with Pan-Taron and his grandfather, Dr. Pan-Ji, trying to eat a plate of hot batteries. Kids, don't try this at home. Episode three brings us back to the battlefield as Panda-Z faces off against the new and improved Moujumbo. Of course, the only improvement since episode one is just its name… Episode four follows an even greater battle as the evil Dr. Jangarly faces off against each of the P-Z Lab members in the ultimate game: Old Maid. Being a villian has its drawbacks when everyone can see the lightbulb on your head give away your hand. And Episode five places the old Dr. Pan-Ji in a pickle as he wanders dizzily through the lab trying to find his room. Few take kindly to someone stumbling into their room late at night.
Robonimal Panda-Z: The Robonimation has its positives and negatives. The super deformed, cute character designs, Go Nagai-style robots, and rock soundtrack are perfect for this short, animated comedy series. However, the shortness of each episode leaves you wanting much more than just a brief routine of sight gags to remember. I wouldn't mind seeing an actual thirty minute episode following the exploits of the P-Z Lab team fighting Skull Panda's forces, like the old '70s robot shows. There is no dialogue, so there is no cast to mention. Everything spoken by characters is written on title cards that pop up right after someone speaks.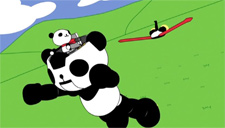 Robonimal Panda-Z: The Robonimation – Volume 1 is a riot to watch, but there is little replay value after the first viewing. The MSRP of $14.98 for just five episodes is far too steep an asking price. A second version for an MSRP of $19.98 adds a mini Panda-Z figure that stands about two or three inches tall, but it's still not enough to justify the price for a 30-minute DVD. The video quality is excellent, with all the original Japanese text left intact. The subtitles are also accurate and present no errors for these five episodes. The DVD extras are a 3-D animated sequence of Panda-Z trying to catch his flight wings, a textless opening, and a translation of the credits. Robonimal Panda-Z: The Robonimation – Volume 1 is funny and worth a look, but not until there's a cheap collection. The entire series—thirty episodes—spans six DVDs, and $14.98 is too much to ask for any one volume.