When it was announced that Peach-Pit's popular manga title Rozen Maiden would be recieving an anime TV-series, fans were ecstatic. As a hobby, Jun Sakurada enjoys getting mail-order junk, especially occult-related items. One particular offer on his desk asks if he will or will not "wind." The description is mysterious, but Jun signs that he will wind. A case appears at his feet, inside of which are a doll and a separate little wind-up key. With the doll being so life-like, Jun has to turn the key to see what happens. Geneon Entertainment brings the first of the six-volume series following the Peach-Pit tale with Rozen Maiden: Doll House.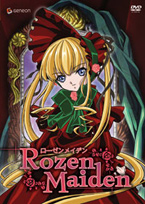 Stats
DVD: Rozen Maiden: Doll House
Release Date: 5/29/2006
Release Studio: Geneon Entertainment
ADR Production: Bang Zoom! Entertainment
MSRP: $29.98, DVD with Box $39.98
Audio: English 2.0 DD, Japanese 2.0 DD
Subtitles: English, Signs-Only
Episodes: 4
Runtime: 100mins
Extras: Textless Opening, Geneon Previews
Notes: Review is based on a Screener copy of the final product. Preview audio clips are available.
Jun Sakurada doesn't go to school. He doesn't hang out with friends. He doesn't even like dealing with his older sister, Nori, who obviously cares enough that she waits on him hand-and-foot. With a past he doesn't want to confront and a future he doesn't want to step into, Jun is living in exile by his own choice. In this purgatory he has found comfort by shielding himself from anything that could harm him physically or emotionally. That is until this quiet world was rocked by his inclusion in the Alice Game.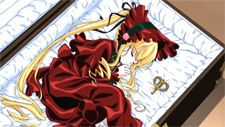 Our first episode introduces us to poor Nori who tries to take care of her younger brother through these tough, emotional times. Jun's passion for mail-order junk has packages delievered and sent away daily with the possible (thrilling?) chance of getting stuck owning one of these pieces of junk forever. (And you thought you had a weird hobby.) Having signed the letter from Holie about winding something, he is surprised to find a case at his feet. The workmanship on the female doll inside is amazing, with life-like features and detailed clothes. You can imagine his surprise when she speaks. Of course he assumes it's an elaborate sales scam until she bats him away. A voodoo curse? Maybe… but this is hardly the time to think about it because a clown doll has just broken into the room from the window. The sinister clown begins trying to kill Jun and he's left with no choice but to swear to serve Shinku. Shinku takes care of the intruder and then explains that Jun is now her servant and medium from which she draws her power. Jun is stuck with Shinku whether he likes it or not. Nori, on the other hand, takes the walking, talking doll far better.
Episode two introduces Hina-Ichigo and her servant human, Tomoe Kashiwaba. Hina's mood swings have been steadily draining Tomoe, but she doesn't know it just yet. At the Sakurada house, Nori is still tickled pink over having the oh-so-cute Shinku around. Tomoe stops by the Sakurada house to to drop off some papers and Nori invites her in for some tea. The two sit down to drink when Shinku comes waltzing into the room. Panicked, Nori tries to cover up this mistake, saying that Shinku is one of the new cat-eared dolls that just came out. Nori doesn't notice the rose ring on Tomoe's hand, but Shinku does notice. As she gets ready to leave, Tomoe bumps into Jun, which sends him up the stairs and under the covers to hide. Shinku sends Holie out to follow Tomoe and finds out about Hina. Meanwhile, Hina is throwing a fit and pulls Tomoe into a toy-world controlled by Hina. Holie returns to report the news and Shinku decides to venture through an old mirror into Hina's world to confront her.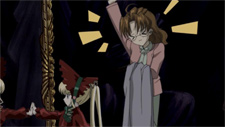 The third episode introduces Suigintou and a description of the Alice Game that each of the Rozen Maiden dolls are forced to play. With Hina-Ichigo now living at the Sakurada residence as Shinku's servant, Jun is hitting his limit on how many dolls he can put up with. Nori tries to make Hina happy with poor results, unable to even figure out the kind of food she likes to eat before leaving for school. This leads Hina to whine, and Jun decides to go find the special food on his own. Venturing outside for the first time in a while, Jun is a bit unsteady but still manages to track down what Hina has been crying for. Meanwhile, the two dolls are on their own in the house when Suigintou decides to make her presence known. She confronts Shinku about not taking Hina's power and improperly playing the game before vanishing again. After all, it isn't fun to beat someone when you could slowly torment them instead.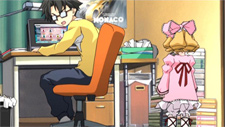 Our final episode introduces everyone's favorite desu doll with Suiseiseki (literally) crashing through the window. Just what Jun needed: yet another doll in the house. Suiseiseki has grown to hate humans, but we aren't really given a reason why just yet. However, Suiseiseki's love of gardening opens up a line of communication with Nori, who tends to a little flower-garden in the back yard. Seeing an opportunity, Shinku wants to use Suiseiseki's powers to explore the inner-self Jun keeps locked up so tightly. Full of dark clouds and broken electronics, Jun's inner-world is a scary place. Suiseiseki plays Jun's guide, but is quickly joined by Shinku and Hina-Ichigo as they look for what ails Jun from within.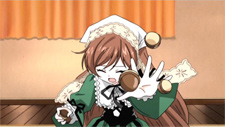 Rozen Maiden has several regular dolls to introduce, so it isn't unusual that the first four episodes try to give each doll their own moment to shine before moving on. The gothic-lolita character designs – with a touch of Alice in Wonderland and influences from the Victorian era – are heavily used in Rozen Maiden and should prove just as popular with the American subculture as it did with the Japanese. The Japanese cast is filled with wonderful performances capturing the unique personalities of the characters early on. Shinku (Miyuki Sawashiro) and Jun Sakurada (Asami Sanada) are well matched in playing off each other's emotions. Equally strong is the English dub produced by Bang Zoom! Entertainment. Alex Von David has stayed fairly faithful in adaptation and direction to the original Japanese performances while letting the English cast add their own personal touches to the characters. Mona Marshall's Jun can be a little too high at times, but she nails the emotional range of the character. Mela Lee's Shinku also presents a well thought-out delivery, making the character very haughty without going too far over the top. "Jane Doe #27" (if you know who this is just wink and nod as usual) provides an adorable Hina-Ichigo that plays well against Shinku's needs and is stronger than Sakura Nogawa's version in the Japanese track. And for everyone curious to know if desu is used in the English dub, no it is not. Suiseiseki's trademark phrase used at the end of most sentences is not translated over.
Rozen Maiden: Doll House is an excellent way to leap into this series and comes in Volume 1 and Volume 1 + Velveteen Art Box flavors. The Rozen Maiden tale grows darker as we eventually enter the second season of the series, and it's hard not to get hooked on this title before that happens. The DVD video presents a crisp, anamorphic presentation with a flawless subtitle track to match. The opening credits are translated into English, but the closing credits remain in their original Japanese with a translated version at the end of the DVD. The only extra available is the textless opening, but it does have five more volumes to go. Rozen Maiden is a unique story with a great cast of characters to play off each other. That fact alone makes Rozen Maiden: Doll House a must-have title to grab when you see it.