Koutaro has been in charge of the faltering Sakura Market since his father's recent passing. Koutaro's stepmother Mintaro and stepsister Nagisa try to help out, but the family business is Koutaro's to protect from his older-brother Taiyo and the corporate backer Kaneshiro. The two men are looking to buy the shop to add to their chain of markets. Between financial problems and the fact that he lives with two sexy, available women, Koutaro's days have been anything but easy. Based on the hentai game Tsuma Tsuma 3 from Discovery and animated by ANIMAC comes Wife with Wife: Volume 1 from JapanAnime.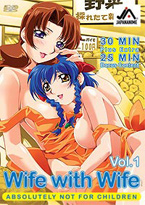 Stats
DVD: Wife with Wife: Volume 1
Release Date: 10/18/2005
Release Studio: JapanAnime
MSRP: $24.99
Audio: Japanese 2.0 DD
Subtitles: English
Episodes: 1
Runtime: 30mins
Extras: Slideshow, Preview Trailers
Notes: Review is based on a Retail purchased copy of the final product.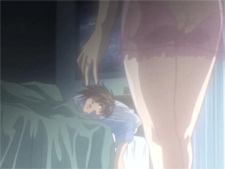 Koutaro is in bed when his stepmother Minato glides into the room wearing lingerie. Since her husband passed away, Minato's been lonely every night and Koutaro is too tempting to not share a bed with. Having dreamed of this night for a while, Koutaro welcomes the company and begins to makeout with his stepmother. Even though it is wrong, they are not related by blood and so thrust themselves into fully enjoying each other. Minato takes Koutaro's ready cock into her and rides it in pleasure . Just as the two cum together, Nagisa manages to pull the sheets away and wake up her stepbrother. Koutaro was having a dream and his hand is still at work on his shaft. Nagisa screams and Koutaro bolts pantless from the room down the hallway.
At the store, Koutaro gets ready for another day of work with Minato when his older brother arrives. Koutaro has found a way to counter the buyout offer for his father's Sakura Market from Mr. Kaneshiro. His older brother Taiyo heckles his chump of a brother about the hopeless dream and offers to keep them as staff when they eventually own the tiny market. Koutaro is saddened by the news, but Minato reminds him they still have a shop to run for now. Inside, Koutaro works around the store as Manager in a market full of sexy ladies. As he answers one woman's question, he notices another woman who may be shoplifting. His sexy employee Touko interrupts the pursuit and forces Koutaro to give up. Noticing a pricing mistake on what Touko was about to shelve, he grabs her arm and drags her into his office for a scolding.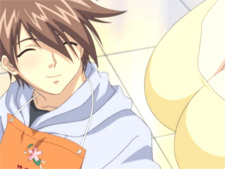 Touko recently gave birth, and Koutaro takes this opportunity to lift up her shirt to suck on her tits before tearing off the rest of her clothes for the main meal. Touko squirms and moans under his forceful command as he pounds away at her pussy. The memory of how sexy his stepmother in the bath was one evening started his craving for MILF's, which led him to Touko. Touko was shopping in the store and Koutaro offered to bring the groceries to her home. When he arrived, Touko easily seduced him and popped his cherry on many subjects. Touko uses Koutaro for stress relief and Koutaro uses Touko to keep his mind off his stepmother. However, the desire to take his stepmother only seems to grow as the days go on, and Koutaro must find another way to relieve the stress from work and home life.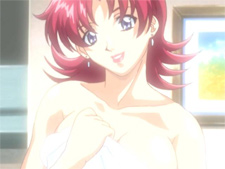 Wife with Wife is an odd story focusing on how much Koutaro wants to land his stepmother in bed while trying to find another outlet. However, his dreams and reality have very contrasting results by the end of the story. The episode is based on characters in the third game of the Discovery series and the next volume will move on to a completely new tale, so if this isn't interesting then maybe volume two will be. The character designs match the original game animation, giving them an interesting look at times in comparison to other shows. A few times the animation appears a little simplistic, but there was no actual skimping on the animation budget. The Japanese cast is listed, but aren't matched to their character names. Koutaro's isn't bad, but he doesn't have the dark nature down as well as the nicer side of the character. On the other hand, Minato and Touko are a pleasure to listen to and get plenty of practice moaning and talking dirty while they get pounded.
Wife with Wife: Volume 1 is a decent title, but the rape scene towards the end to resolve all problems may put off some who simply wanted MILF's and consensual sex. The title does push the 'MILF'—that's Mother I'd Like to Fuck for the few who haven't seen American Pie—aspect as much as possible with Touko and Minato, so don't expect to see the stepsister Nagisa getting any attention in the episode. The video quality is good, as it should be with only one episode on the DVD. The subtitles have some grammar issues, but nothing too major to take away from the show. The DVD cover is reversible with a tame cover on the outside and a naughty cover on the inside. This is a nice addition to any hentai title. The DVD extras available are some preview trailers for other series and a slideshow of screencaps from this title. Wife with Wife: Volume 1 has a decent story to follow once you get past the initial setup of the characters. I wouldn't mind the story being extended into more episodes, but this stand-alone volume is still definitely worth picking up.