A Faery Hunt – www.afaeryhunt.com
"World-renowned faery experts and cousins, Elsie Wright and Frances Griffiths, are seeking children and the young-at-heart to aid in the search for faeries and other mysterious creatures spotted around Heavenly Pond."
Those in the Beverly Hills area may want to set aside a Saturday morning. Faery experts Frances Griffiths (Debbie Rothstein) and Elsie Wright will guide you to meet the local faeries in the area including Pilliwiggin (Bethany Rhoades) and Belfiana (Sandy Fox). The children's show runs weekly and is available for private bookings.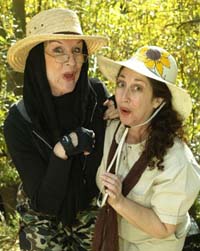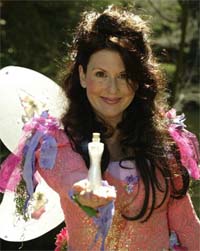 When: Saturdays (pending weather and closed holidays).
Time: Promptly at 10:30 a.m. (give or take a few minutes).
Where: Franklin Canyon Park, 2600 Franklin Canyon Drive, Beverly Hills, CA, 90210, at the William O. Douglas Outdoor Classroom, Sooky Goldman Nature Center Parking Lot, which is to the left of the first stop sign in Franklin Canyon. Look for the "Faery" sign for parking.
Cost: $10 Suggested Contribution
Photos by John Michael Ferrarri. Review available from the LA Times (registration required).