Mixing the stunning visuals of Mamoru Oshii's Ghost in the Shell 2: Innocence along with full-length versions of the music from the soundtrack comes a unique second look into the Innocence film. The Innocence Music Video Anthology selects seven memorable (if not occasionally haunting) tracks from the film and sets them to the grandiose visuals of a future world. Bandai Entertainment brings Ghost in the Shell 2: Innocence Music Video to America for a rare, deeper glimpse into the Innocence film.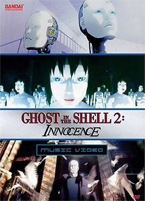 Stats
DVD: Ghost in the Shell 2: Innocence Music Video
Release Date: 7/12/2005
Release Studio: Bandai Entertainment
MSRP: $24.98, Special Edition $34.98
Audio: Japanese 5.1 DD, Japanese 5.1 DTS
Subtitles: English, Japanese, Karaoke
Episodes: 1
Runtime: 42mins
Extras: Two Bonus Music Videos, Trailers
Notes: Review is based on a Screener copy of the final product.
Nine music videos—seven in the main presentation along with two additional instrumental videos in the extras—take you on a journey back into the world of Innocence, playing off the grand visions of the future. Each video focuses on the visuals and underlying message within the film rather than the character-driven scenes. Kenji Kawai's music fills each of the scenes with famous Jazz artist Kimiko Itoh lending her vocals for "River of Crystals" and "Follow Me." Nishida Kazue Shacho delivers the haunting vocals for each of the three "The Ballade of Puppets" tracks as she sings about death. Kimiko Itoh's smooth vocals are a treat to hear over and over again, but I found myself wincing rather often as Shachu would be brought back for another, almost screeching, 'delivery as flowers fall away' and 'Nue will sing.' Some music is just better off in smaller pieces spread throughout a film. The two instrumental tracks and two bonus instrumental tracks are a great addition, as they add to the action or help soften the moment of the visuals.
Ghost in the Shell 2: Innocence Music Video is an interesting addition to the US market and worth a look if you enjoy the Innocence soundtrack. As a standalone product, I would probably pass over it unless you just want a sample of the Innocence visuals. The video is clean and the multiple subtitle tracks are error free. The DVD extras are two additional instrumental music videos, bringing the total collection on the DVD to nine. The MSRP of $24.98 for the music video collection is pricey and the Special Edition's MSRP of $34.98 for the inclusion of the soundtrack isn't any better. Maybe $15 or so for the Special Edition would be a fair price to pay, but $35 for nine music videos and a CD is too much. Ghost in the Shell 2: Innocence Music Video is a great supplement to the Innocence film, but it's mainly for the hardcore Ghost in the Shell fans.
Music Video list:
Incubation – The Ballade of Puppets: Flowers Grieve and Fall
Civilization – River of Crystals
Abyss – Attack the Wakabayashi
Confusion – The Ballade of Puppets: In a New World Gods Will Descend
Sabbath – The Doll House I
Rumble – The Ballade of Puppets: The Ghost Awaits in the World Beyond
Pathos – Follow Me