Aquaplus's popular PC-dating-sim-turned-slice-of-life-anime-series is back for another round of the tough daily troubles facing Hiroyuki Fujita, Akari Kamigishi, and the rest of the To Heart gang. Hiroyuki and Akari accidently end up getting to study alone. Class rep Tomoko has the the Cultural Festival to plan for and the class brats are making trouble. And the school ends up being the testing grounds for a new prototype robot maid who is more alive than some of the real people. From RightStuf comes To Heart: Volume 3 – Bonds of Friendship to set up the final act as friends grow closer and troubles don't rise above a simmer.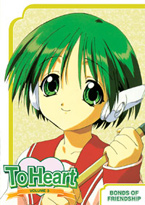 Stats
DVD: To Heart: Volume 3 – Bonds of Friendship
Release Date: 6/26/2007
Release Studio: The Right Stuf International, Inc.
ADR Production: Headline Sound Studios
MSRP: $19.98
Audio:Â English 2.0Â DD, Japanese 2.0 DD
Subtitles: English, Signs-Only
Episodes: 3
Runtime: 75mins
Extras:Â Two Special Mini Episodes, Line Art Gallery, Translation Notes, Character Bios, Trailers, Reversible Cover
Notes: Review is based on a Screener copy of the final product.
Episode eight beings with Akari preparing a study session with her friends before exams. Hiroyuki manages to arrive before the rest of the gang and realizes that it's been a long time since he actually visited Akari's house. While the pair chat and get ready, their fellow partners start dropping out. Masashi has been called away for a family trip and Shiho calls in sick. Of course, the news that it will only be Akari and Hiroyuki together for the full day with no parental supervision gets Shiho talking about the trouble that may develop. Naturally, Hiroyuki learns quickly to cut off Shiho's long calls so that the pair can study. Moving into Akari's bedroom where it's a bit more convient, Akari starts to remind Hiroyuki of the intertwined life he has led with her since grade school. From hair styles to collecting bears, Hiroyuki is going to be hit on the head with the obvious mallet several times before this all-day study session is over.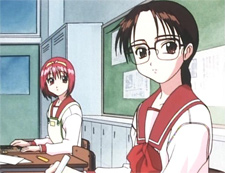 As class rep for 2-B, Tomoko Hoshina lives a busy and unrewarding life dealing with the various egos of her class clashing with the school rules. Class 2-B is planning to run a cafe for the 17th annual Cultural Festival, but they are not the only class to come up with the idea. A trio of girls decides that Cafe BeLoved is going to need some spice in order to compete for business this year. However, Tomoko repeatedly turns down the trio's suggestions for improvements because they don't conform to the school rules. Akari and Hiroyuki manage to assist Tomoko in avoiding a screaming match by the trio of snobby girls, but this doesn't fully solve the problem. With only drinks and pre-prepared food to serve, the trio responds with the idea of decorating the cafe to be cuter than their competition. Tomoko reluctantly agrees to let the girls get some supplies on loan from one of their families, but things don't go as planned and the supplies arrive as the school is about to close on the final day before the festival begins. Now the girls are facing the possibility of not being open the first day if they can't get organized in time.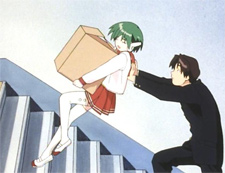 The final regular episode showcases the appearance of the popular character Multi. An adorable robot maid prototype developed by Kurusugawa Electronics, Multi has been sent to the school for field testing over a two week period. Of course, Multi is a lot more real than you would believe of a robot, and no one is more surprised than Hiroyuki when he meets her. As Multi tries to carefully balance a heavy box as she climbs the stairs, Multi loses her balance and almost falls down. Thanks to Hiroyuki's good timing, he catches Multi and helps her up the flight of stairs before disaster can strike. Multi thanks Hiroyuki for his assistance and introduces herself properly to her hero. As Hiroyuki joins the rest of his classmates, the Shiho information network is already hard at work informing people that a prototype robomaid is in their school. Naturally, Shiho is a tad peeved to find out that Hiroyuki is far better informed than she is. As Multi continues her research at the school, Hiroyuki and Akari take the cute robomaid under their wing to help her fulfill the dream of bringing smiles to everyone's faces. However, Multi isn't the only prototype maid being tested by the Kurusugawa labs. Serio is a slightly more mature and far more reserved maid robot who has been sent to Saionji Girls' Academy. At the end of the field tests, the lab will decide which model to put into production and which to retire.
Volume three also gets the second pair of mini-episode omakes with silly chibi-characterizations of the main cast. Mini-episode three is fairly dangerous because everyone in Hiroyuki's world has changed personalities! Shiho comes daily to wake up Hiroyuki, Tomoko is in the kick boxing cub, and Akari is a gossiping nightmare!! Ack!!! Mini-episode four is a tad safer as Hiroyuki joins Multi's more professional sister, Serio, and Ayaka Kurusugawa as they fish along the riverbank to teach Hiroyuki how to have some fun in life. Wait, maybe this one is the dream…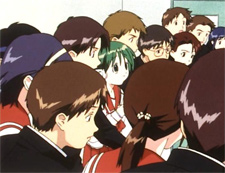 To Heart remains one of the best slice-of-life series released to the market in America or Japan. While the hints of love may not be as pronounced as in another series like Boys Be…, To Heart manages to make its formula work and capture the attention of the viewer, whether you started with the games or simply tried the anime series on its own. The restoration and care given to To Heart has made it well worth the wait. The Japanese cast polishes off another disc with great performances from the cast. Kazuya Ichijo does a great job giving a soft touch to Hiroyuki's forgetfulness as Akari reveals how closely connected the two have been since childhood. Ayako Kawasumi also provides a wonderful series of moments, from trying to reach Hiroyuki without blatantly stating her love for him to trying to play part-time ref between Tomoko and the class brats. Yui Horie is a cheery addition to the cast the same way Mayumi Iizuka's Aoi Matsubara was, but sadly neither character gets used as much as I would have liked in this series. The English production from Headline Studios provides three solid episodes between Joe DiGiorgi's direction and Regal's accurate script. Rich McNanna's Hiroyuki can have the occasional rough spot, but otherwise this has been the best performance yet for the character. Angora Deb's Akari remains cute and is almost a perfect match to Ayako's original performance.
To Heart: Volume 3 – Bonds of Friendship highlights some of the greatest aspects of the To Heart series, between Hiroyuki's general nature to help others and the connection shared by Hiroyuki and Akari. Now if only he wasn't as thick skulled as the walls of Fort Knox so he could see what's right in front of him… The video quality is strong and the subtitles continue to be flawless, as is common with RightStuf titles. The DVD extras add a few more character bios, a line art gallery, and a few translation notes covering the cultural festival and cram school. To Heart: Volume 3 – Bonds of Friendship begins the subtle setup for the final episodes and will leave you wanting the final volume now rather then later. While light romance (very light, in this case) is not for everyone, you still owe it to yourself to try one of two episodes before passing over such a great little series.