When FUNimation sent out the Samurai 7 DVD to reviewers, they included a very nice (small) sword on a stand. (I don't have one nor did I get the DVD to review, so I can't show any pictures. I hear it's nice, though.) In fact, it's common for some websites and magazines (not this one, mind you) to get lots of fancy little bonus items to help intice the person to review the title sooner, be nicer, or whatever else to get some publicity for the DVD. Where am I going with this?
So a package from Geneon arrives today which contains three DVDs to look over and review. Of course, it's not the DVDs which caught my eye first when I opened it up: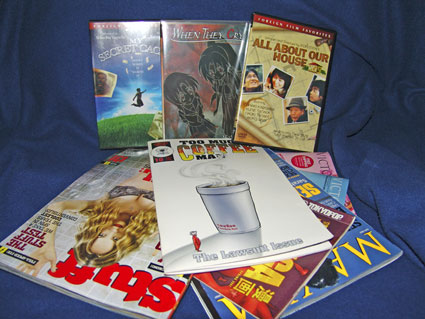 When I order from RightStuf, I get plain brown paper and advertisements for their series to help secure my DVDs. When I order from Japan, I typically get Japanese newspaper wadded into balls to keep my DVDs from floating around in the box. When Geneon ships out titles, it's typically newspaper… yet seeing a copy of Shannon Wheeler's Too Much Coffee Man cracked me up. So should this be counted as a bribe, package stuffing, or silly revenge for this joke?